We are one of the oldest data protection companies in Germany. We have been training company and official data protection officers since 1997 and work as external data protection officers, data protection auditors and management consultants for companies from all sectors - from craftsmen and medical practices to industrial companies and telecommunications providers.

On October 27, 2011, company founder Andreas Ebbersmeyer from the Independent State Center for Data Protection Schleswig-Holstein (ULD) was appointed as an expert in accordance with Section 4 (2) LDSG SH in conjunction with Section 3 (1) of the Data Protection Audit Ordinance (DSAVO) of November 18, 2009 for the areas of law and technology recognized.


Only experts in the field of data protection law and technical data security are accredited as experts at the ULD, whose expertise and reliability have been checked by the ULD in the approval process.

On the basis of this recognition, he is entitled to use the designation "Expert for IT products (legal / technical) recognized by the Independent State Center for Data Protection Schleswig-Holstein".
In total, only fifteen people across Germany received this recognition.

From 2015 to 2019 we trained more than 500 data protection officers. In 2018 alone, we informed and sensitized participants from public and non-public bodies to the changes in data protection law brought about by the General Data Protection Regulation in over 400 lessons.

On May 24, 2018, we received the last data protection seal of approval from the Independent State Center for Data Protection Schleswig-Holstein (ULD) that was still awarded in accordance with Schleswig-Holstein state law through the creation of legal and technical reports for the "ennit Cloud" online service from ennit Server GmbH successfully supported.


In our company we have always attached great importance to an above-average equipment with scientific specialist literature. Legal and technical reference works are self-evident tools in our daily work.

Of course, we also educate ourselves and regularly attend seminars in data protection and IT security.

A trainer qualification according to AEVO is also available.

In July 2019, Andreas Ebbersmeyer also had himself certified as an internal and external data protection officer (IHK) to improve the transparency of specialist knowledge.

In August 2019, the certification as data protection officer according to DIN EN ISO / IEC 17024: 2012 and certification as IT security officer according to DIN EN ISO / IEC 17024: 2012 took place.



Our coat of arms
Our company coat of arms is based on the three core elements of the family coat of arms of the company's founder, Andreas Ebbersmeyer: The crossing pen and the beard key symbolize the protection or locking or locking of written messages in order to ensure confidentiality. In heraldry, the lily is a symbol of pure, noble sentiments.

The motto of the Ebbersmeyer family, which is part of the family coat of arms, is "Taciturnitas Super Omnia" - "Confidentiality about everything".






Awards received

The Lawyer Monthly Legal Awards recognize the accomplishments of law firms and individuals who have worked extensively on behalf of their clients over the past 12 months and achieved exceptional results in the process.

We won the "Legal Award 2021" in the category "Privacy Law - Lawyer of the Year - Germany" .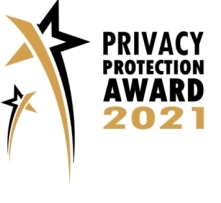 The Privacy Protection Award is Germany's most important award in the data protection industry. It recognizes cross-sector companies that differ from their competitors primarily through an implemented data protection management system.

We received the Privacy Protection Award 2021 with the title "Excellence in Privacy Protection" for our work as external data protection officer.





The German Institute for Data Protection has awarded our test methods for process sequences and AV contracts (contracts for order processing according to Art. 28 GDPR) with the Innovation Prize 2021 .





We were the first and only company in the data protection industry to receive the High Performance Award 2021 .

The HiPE Award stands for the exceptional quality of a service, above-average performance assessment, excellent services, as well as characteristics of effectiveness and constant growth of outstanding service providers in Germany. Out of a total of 2,000 nominated companies in recent years, only 30 companies were awarded after detailed reviews.

"Andreas Ebbersmeyer - the data protection officer" belongs to the group "GERMANY'S BEST"!





As "Top 20 Speakers" we were awarded the Dataprotection Award 2019 for our data protection seminars "Implementation of the GDPR".

In these seminars, we trained and sensitized more than 500 participants in Schleswig-Holstein alone to the changes in data protection law due to the applicability of the European General Data Protection Regulation.





We are consultants for data protection with body and soul, but our hearts beat just as strongly for sustainable action, especially the care and rearing of wild animals in need.

For our commitment to the hand-rearing of swallows and the support of our feathered friends by means of artificial nests, we received the NABU award "swallow-friendly house" in 2017.




Our certifications





Proof of qualification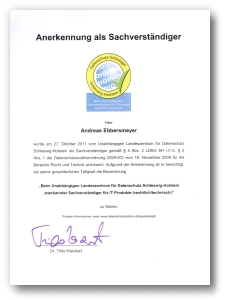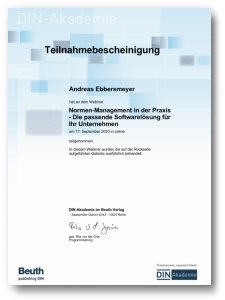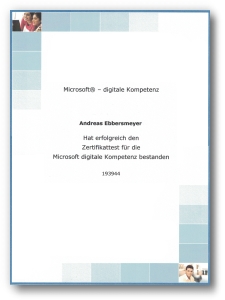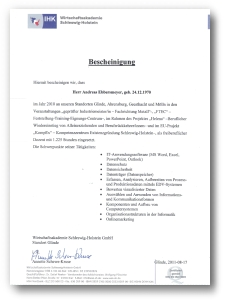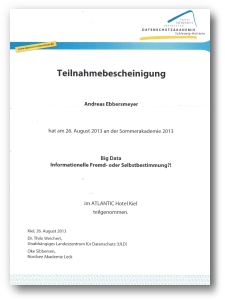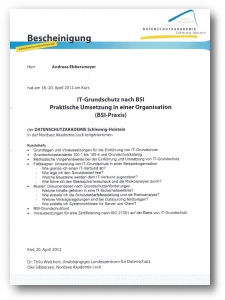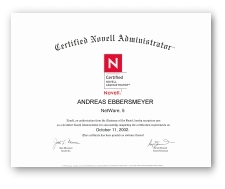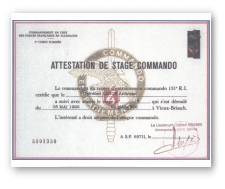 Further certificates are available upon request or when you visit our office.






As of May 25, 2018, due to the changed legal situation, the Schleswig-Holstein data protection seal of approval and the audit procedure can no longer be offered in their previous form. Please note that all certifications issued so far (data protection seal of approval and audit) and accreditations of the ULD were based on the legal situation before May 25, 2018 or before the validity of the General Data Protection Regulation.

The last seal of approval still awarded after the seal of approval procedure on May 24, 2018 was successfully accompanied by Andreas Ebbersmeyer through the legal and technical preparation of the ennit Server GmbH's "ennit Cloud" online service.







Finally, some humor

Sometimes the ideas of customers and data protection officers differ a little. Is data protection really more than just a text on a website? We tried to clarify that in this not-so-serious video. ;-)

Note: language in this video is german